Takayuki Noguchi Returns
From Chinese Prison
9 August 2004
At approximately 9:00 PM on 9th August, Takayuki Noguchi walked through the arrival gate at Narita Airport, after having served an 8-month prison sentence for attempting to assist two Japan-born North Korean refugees.
He was greeted by family members, friends and dozens of reporters, who held an impromptu news conference in the airport's press room.

The photos below reveal a thinner, but smiling, healthy and undeterred Noguchi, who asserted his continuing dedication to human rights for refugees being repatriated unlawfully by China.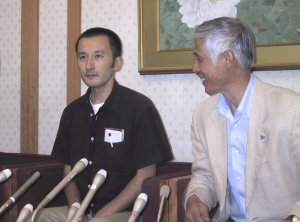 Dozens of journalists and reporters were eager to ask questions at the press conference, which began after 9 PM, soon after Noguchi's plane landed. He is joined by Hiroshi Kato, secretary general of LFNKR.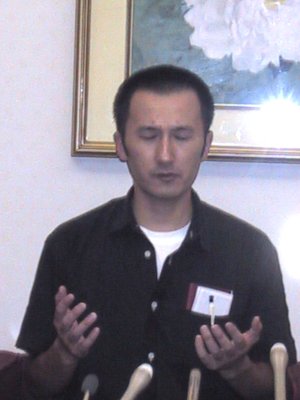 Noguchi continues to be haunted by the desolate groan, "I'm already dead," of the male North Korean refugee, who gave up all hope when he saw the Chinese police enter their hotel room.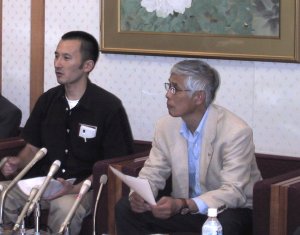 In response to a reporter's question, Noguchi asserts his continuing commitment to helping North Korean refugees. He stated, "I was deprived of my freedom, and I feel that I have experienced a small part of what they live through."
---
---
---